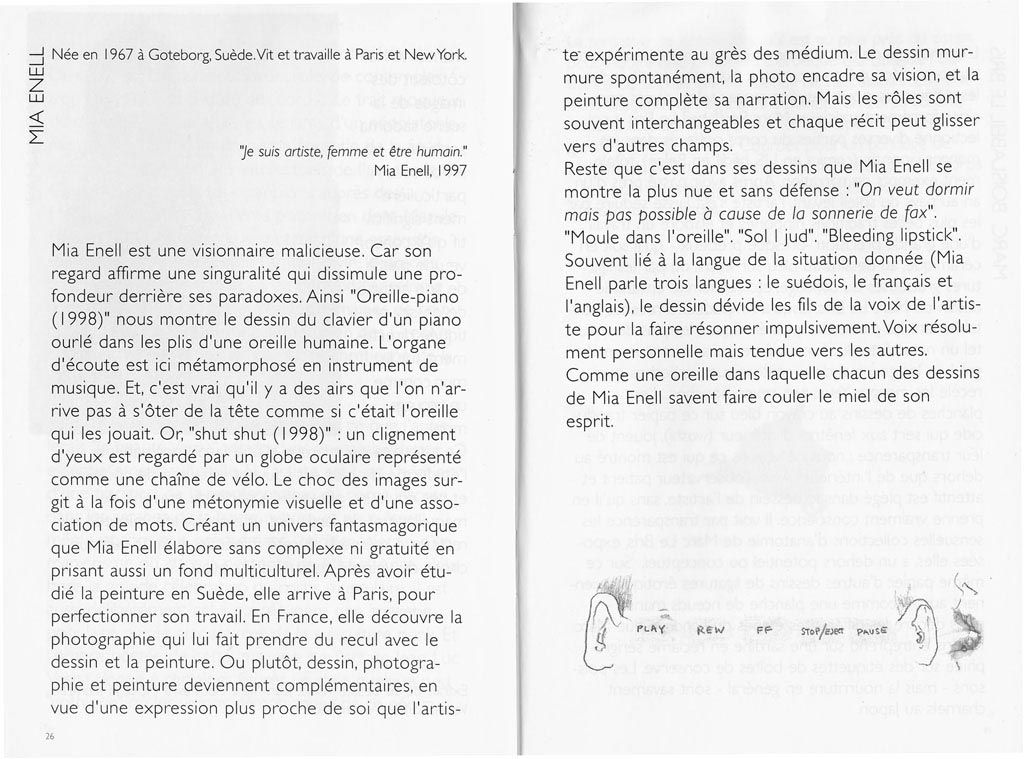 Translation:
Ainsi de Suite 3,  May 21 – June 27, 1999
Associated Curator:  Lili Ri-Hye Kim and Noelle Tissier
Mia Enell, born in Goteborg, Sweden, lives and works in Paris and New York
"I am an artist, a woman, and a human being" 1997
Mia is a malicious visionary. Her vision affirms a singularity, which reveals depth behind her paradoxes. "Oreille-Piano" (Ear-Piano) shows us the drawing of a piano keyboard huddled within the folds of an ear skin. The hearing organ is metamorphosed into a music instrument. And it is true that there are tunes we can not get rid of, as if it was our ear that played them. Or "Shut-Shut": the wink of an eye is seen through an ocular globe represented as a bicycle chain. The weight of images  surges from both a visual metonymy and a word play. Creating a fantasmagoric universe, which Mia builds upon with neither hang-ups nor gratuity. While drawing as well from a well of multicultural sources.
She came to Paris, after studying painting in Sweden, to improve her manner. In France, she discovers photography, which helps her find distance from drawing and painting. In other words, photography and painting become complements, serving the artist's objective to find, beyond the medium, a more personal expression. While drawings whisper her vision, photographies frame it, and paintings complete the narrative. But roles can be permuted, and each narrative can slide to another medium.
It is however in her drawings that Mia Enell reveals herself the most, and shows the most of her vulnerability: "You want to sleep, but not possible because the fax is ringing"; "Oyster in the ear"; "Sol i Jud; "Bleeding lipstick". Very often referencing her immediate surroundings (Mia fluently speaks three languages: Swedish, French, English), her drawings pull the threads of the artist's voice, to make it sound impulsively. A resolutely personal voice, but attentive to others. As if Mia Enell's drawings were ears in which she poured the delicate essence of her soul.
Drawing: "Play Rew FF Stop/Eject Pause"